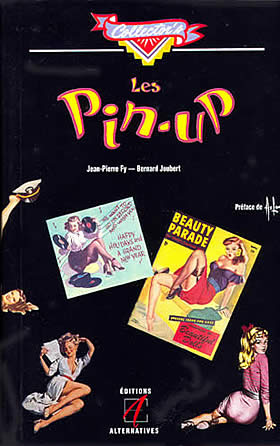 Jean-Pierre FY - Bernard Joubert.
Les Pin-up
Editions Alternatives,
1995, preface by Aslan.
Before we published this book in 1995 with my friend Bernard Joubert, there were 2 cases of figure : one of them was to make a very beautiful and especially very big illustrated book.
Neither the material, nor the courage didn't miss us for this, but knowing the price of the art books, with a beautiful impression, a color selection and a serious editorial line, we knew that it would be great, but very expensive and that a hundredth only of our customers could easily acquire it.
It was otherwise out of question that we make a cheap big book with runny reproductions and with improper colors as it became the case in the bargain sale and even at some "true" booksellers.
This book was a first in our country, we mention at the end of the book those that preceded us in France and in the world. The success and the press were unanimous for this small sympathetic colored book that costs less than one hundred francs (15 euros).
Funny thing, we see it sometimes on the Net at rather expensive prices, whereas it is available here for 10 euros and with dedication if you wish !!!
You must add the shipping cost :
Ecopli: 1,45 euros (in this case we release ourselves from any responsibility in the event of loss or theft).
Registered letter R1: 4,48 euros.
For all dedications thank you to specify the name or the first name.

How to contact us ?